The performance
Pierre-Paul Constant only needs a few David Bowie's vinyls and a yellow balloon to transform loneliness into a refreshing and poetic pop-rock experience. With them, he invents new dances and creates an improbable sizzling sensation. While dancing with his balloon, this misfit with tender muscles is brimming with energy. Kids will only have one thing in mind: To Get into the groove!
Ballon Bandit is a theater-dance show: physical, musical, playful and poetic.
On stage, a character, Tom. He is in his own world, it could be a lunar and deserted planet or a room furnished only with a vinyl turntable and its speakers. Tom is alone but suddenly a Balloon appears. A yellow helium balloon, like the ones that all toddlers know perfectly well. The kind of balloon that amazes us so much that even when we become adult we are still fascinated with. Through dance, music and games, Tom travels and poetizes. Little by little, to feel less lonely, he personifies Balloon and they both get carried away through dance.
Ballon Bandit celebrates the joy of the imagination, the pleasure of the dance, the pain of the loss, the joy of finally being reunited, the dizziness of living in space, of floating in it. Ballon Bandit makes our senses sparkle.
A INTI Théâtre Production in co-production with Centre Culturel de Verviers, Pierre de Lune Centre Scénique Jeunes Publics de Bruxelles and the Coop asbl. With the help of the Service du Théâtre de la Fédération Wallonie Bruxelles, and the support of Shelterprod, Taxshelter.be, ING and the Tax-Shelter of the Belgian federal government. In partnership with Théâtre de la Montagne Magique, EKLA pour tous, Théâtre Mercelis, Centre culturel Bruegel, Centre culturel Wolubilis, Centre Culturel de Chênée, La Roseraie, Le Théâtre des 4 mains, Espace de danse A petit pas de Mytilène/ Grèce.
Team
Creation and interpretation Pierre-Paul Constant
Stage Director Didier Poiteaux
Assistant Stage Director Céline Dumont
Choreographic accompaniment Dominique Duszynski
Set design Marilyne Grimmer
Costumes Perrine Langlais
Sound design Thomas Turine
Lighting design Loïc Scuttenaire
Music David Bowie
Stage Manager Léopold De Neve alternating with Gaspard Samyn and Julien Vernay
Administration Pomme Vivane
Photos Ryszard Karcz
At Huy's festival, Theater is getting rejuvenated
Far from the same old mawkishness still often used in Theater pieces for toddlers, David Bowie gives to this jubilant piece a density all at once psychedelic and cosmic. A pure delight !

Catherine Makereel – Le Soir
Bowie face to face with Ballon Bandit
Ballon Bandit is a refined and choreographed show set up on a background of pop rock music. A proof that dance show for toddlers can be powerfull.

Laurence Bertels – La Libre  
Balloon Bowie
A dance theater piece all at once funny, clever and full of emotions – A wonderfull moment, shared between toddlers and grown-ups.

Aliénor Debrocq – L'Echo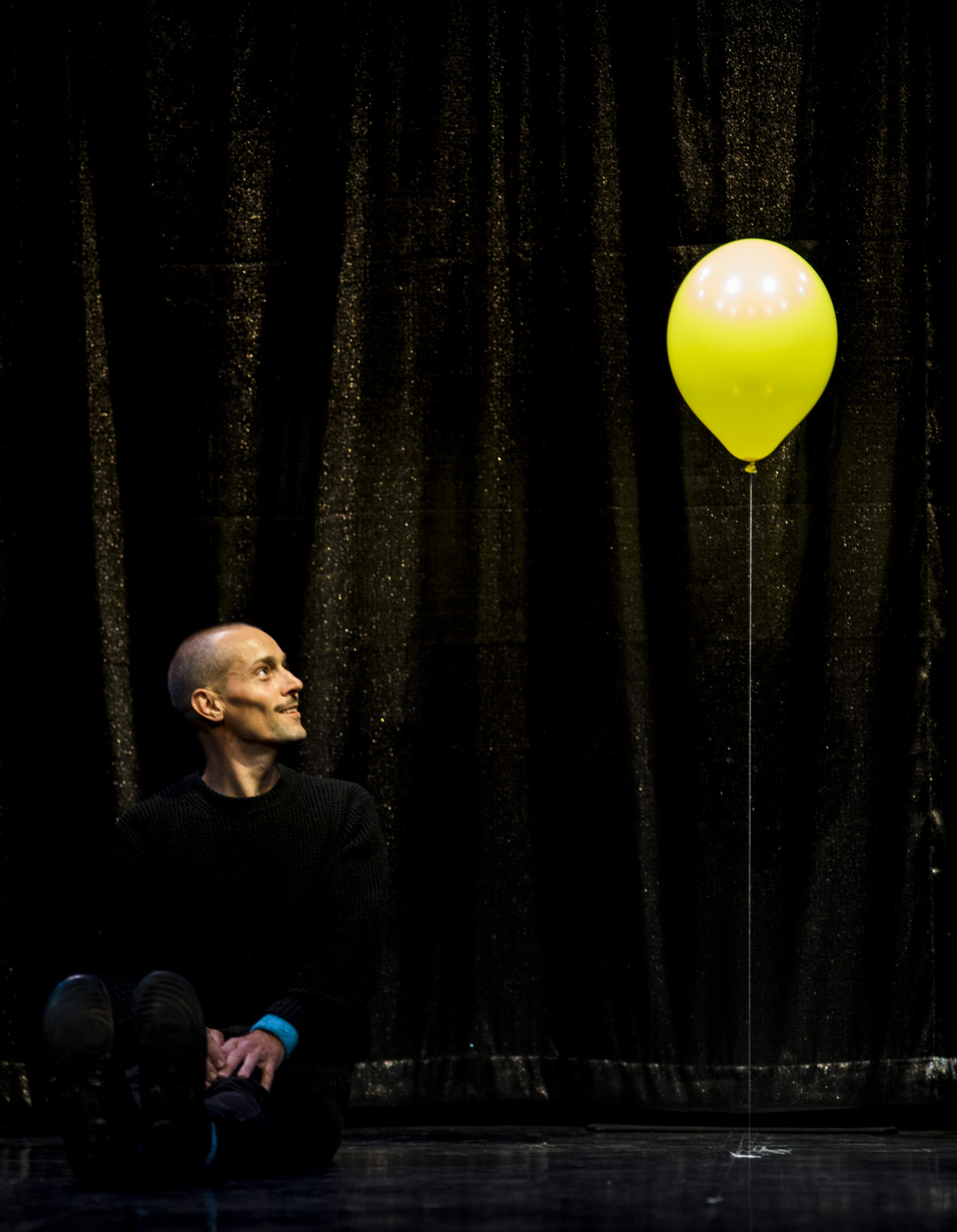 Winter
From Wed 13 to Mon 18 Dec. 2023
and Wed 27 dec. 2023
Rotondes Luxembourg (LU)
From Tues 6 au Fri 9 Feb. 2024
Théâtre-Cinéma Jacques Prévert
Aulnay-sous-bois (F)
From Mon 11 to Wed 13 March 2024
Theater am Gleis Basel (CH)
From Fri 15 to Mon 18 March 2024
Schlachthaus Theater Bern (CH)